ARTICLE
John Lewis models Magna Park 3 DC
11 April 2016
Retailer uses modelling and simulation tool CLASS from Cirrus Logistics for facility focused on larger items requiring 2-man deliveries.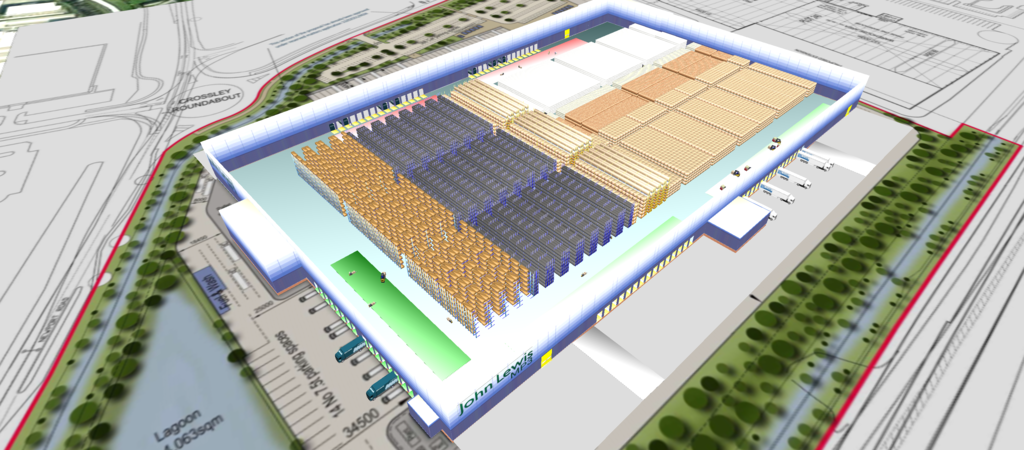 The company was selected by John Lewis for its expertise in warehouse design and in the use of the CLASS tool to create 3D simulation models, testing capacity and productivity levels as well as MHE and labour requirements. The software also enabled the creation of 3D movies to gain stakeholder buy-in and direct feedback from its partners before the site was fully constructed.
The new DC at Magna Park is a 600,000 sq ft ground floor operation with a mezzanine floor of an additional 250,000 sq ft. The site will be focused on large furniture and electricals requiring 2-man deliveries. The design needed to optimise the space available as well as providing maximum labour efficiency to meet online delivery promises. The partnership needed to verify that the internal space would be able to bring in volumes from four existing warehouses. As the site was already under construction, they needed to move quickly.
Another vital element to the process was to involve the partners. Richard Ife, admin and systems manager at John Lewis added: "Crucially our partners were able to play a key role in the development of the design. They have decades of experience and were able to share their views with the design team at Cirrus, which were entered into the simulation models and showed significant efficiency improvements. These changes ultimately resulted in greater productivity and lower congestion across parts of the warehouse."
The model from Cirrus Logistics fitted out the DC with blocks of storage and marshalling areas to ensure the warehouse footprint and racking systems could accommodate the planned throughput. The consultancy team at Cirrus also replicated the planned warehouse processing of inbound and outbound products, including the impact on load size of sending out trailers containing mixed large product, to identify the optimum manning levels and MHE requirements of the new DC.
"Our consultancy team worked closely with John Lewis's network planning team to create a base case model taking data from existing operations and adapting the design with both our suggestions for improvement and feedback from its partners. We created around five scenarios for the DC and delivered a 3D video that offered both management and our partners a professional and valuable insight into the final proposition," said Simon Shore, managing director at Cirrus Logistics. "Working together to improve the offering and future proof the success of John Lewis was a great pleasure and we look forward to working with them again in the future."
"Using CLASS we have been able to provide a visual model of the new distribution centre which allowed direct communication with stakeholders, provided capacity and performance analysis to support the business case, gave insight into future performance of the site and crucially offered a means to fine-tune our design with other potential storage types, processes and layouts," concluded Ife.
Article by Simon.
OTHER ARTICLES IN THIS SECTION