ARTICLE
Cold store cabins added by Mitsubishi Forklifts
13 May 2016
Mitsubishi Forklift Trucks adds SENSiA cold store cabins to its range.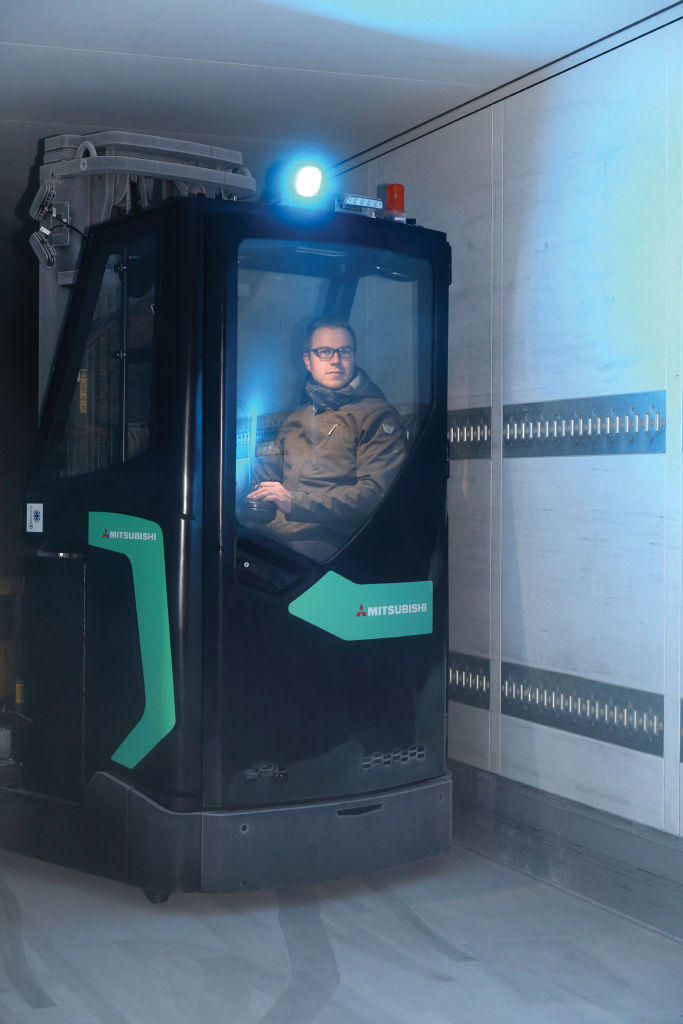 Working in the sub-zero world of the cold store demands the highest standards of visibility, reliability and comfort. Mitsubishi Forklift Trucks has specially developed a brand-new range of cold cabins for its SENSiA reach trucks, which are tailored to work productively and reliably in temperatures as low as -35 degrees.
SENSiA cold store models have been specified with cold-resistant cabling and waterproofed electrics: protecting against damage from cold and moisture. While SENSiA's thermostatically controlled heaters protect critical components, its hydraulics have been optimised to perform in the coldest of conditions.
Recognising a reach truck is only as productive as its operator, designers at Mitsubishi looked for ways to do more than keep operators warm in their cabins.
Developed for energy efficiency, each cabin is generously insulated and features a 1700 W heater to ensure the optimum working environment for each operator throughout the longest shifts.
Available on standard chassis reach trucks, cabins are spacious by design. Every element of the operator compartment has been specified to keep it uncluttered: from its intelligent fingertip controls to its folding steering wheel console.
Controls are kept within easy, avoiding unnecessary movement to reduce the risk of operator fatigue. For added control, every cold store model benefits from SENSiA's intelligent SDS (Sensitive Drive System). Fitted as standard, SDS automatically tailors the truck's performance to the specific needs of driver and load. As a result, it delivers smooth start and stop movements and agile, stable performance.
Visibility is paramount in any lifting operation. Like every SENSiA reach truck, cold store cabin models offer 360-degree visibility. The cabin's heated side windows protect against frost, misting and condensation, ensuring exceptional visibility and safe, productive performance.
A clear-view, crash-proof polycarbonate roof – fitted as standard – means operators benefit from maximum upwards views, while being shielded from falling debris of any shape or size.
The cabin's robust steel frame, which features a reinforced collision guard, offers added protection to operator, bodywork and door when working in tight spaces.
SENSiA is the latest addition to the Mitsubishi Forklift Trucks range of lift trucks dedicated to cold store applications. Other products in the range include VELiA, its low level order picker; electric counterbalance trucks, including the popular EDiA EM and its family of pallet trucks, PREMiA.
OTHER ARTICLES IN THIS SECTION