ARTICLE
TV features Howard Tenens
01 July 2016
ITN Productions and the Chartered Institute of Logistics and Transport (CILT) have teamed up to produce TV programme "Tomorrow's Supply Chain, Today".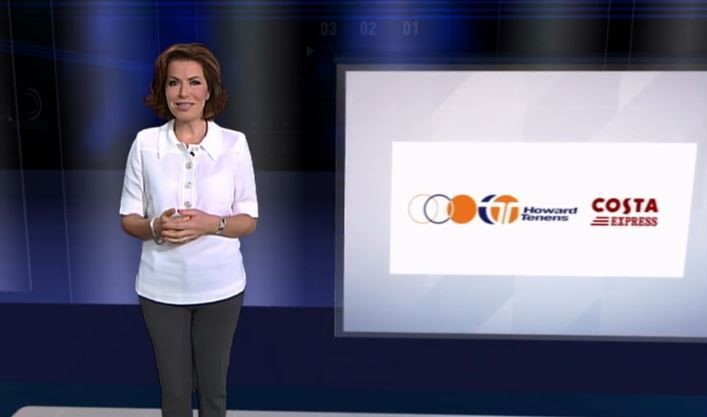 Howard Tenens features twice within the programme introduced by national newsreader Natasha Kaplinsky, highlighting their expertise in both Two Man and solar logistics.
The first 4 minute feature focuses on the company's Two Man Logistics offering for Costa Express. In 2012, Howard Tenens won the Costa Express business to distribute and install the Costa Express Coffee machines throughout the UK; this has since expanded to cater for their International expansion and deliveries/installations. The Howard Tenens West London facility offers a bespoke Two Man delivery system as well as machine install training.
A Howard Tenens spokeswoman comments: "The Costa Express business has grown phenomenally over the years. Howard Tenens has supported Costa Express over the years and we like to think of ourselves as partners rather than a customer and supplier."
The Costa Express business is flourishing with over 700 Costa Express machines installed this year, increasing the total number of machines installed to over 5,000 Worldwide, keeping Costa on track to hit their target of 8,000 self-service coffee machines across the globe by 2020.
Dan Rowe, Installations Manager at Costa Express states: "We use Howard Tenens to transport all of our machines and they enable us to get machines into the ground at the specific times and locations that we need. The great thing about working alongside Howard Tenens for Costa Express is their ability to cover all regions of the country, quickly, easily and without any stress at all."
Howard Tenens second feature within the programme details the solar logistics operation for Lightsource Renewable Energy. Since 2012 Howard Tenens has helped to install over 1.5 million solar modules across 175 sites in the UK.
Howard Tenens Lead Driver Pete Ford explains: "Access to many Solar sites can be very challenging, often the entrances to the sites are very narrow farm tracks which aren't designed to cater for Heavy Goods Vehicles and therefore the turning circles, meeting points and unloading areas all need to be considered and assessed as to whether they can cater for a 44T vehicle.
As the Solar market continues to diversify, Howard Tenens is adapting with it, including solar investments across their own commercial properties. Jamie Hartles, Howard Tenens Logistics Director notes: "The sector is getting more and more competitive; our customers expect and deserve a lot more. By taking a proactive approach to logistics we can save our customers money, enhance their service and develop ideas that help them to drive their business forward."
Sarah Gibbs, Logistics Co-ordinator at Lightsource Renewable Energy notes: "We want someone who understands our needs and understands how farms work. As we moved forward, Howard Tenens prevailed through all of these challenges."
The Two Man Logistics segment can be viewed here
The Solar Logistics segment can be viewed here
The full programme: "Tomorrow's Supply Chain, Today" can be viewed here
OTHER ARTICLES IN THIS SECTION