ARTICLE
Front and side loading
11 October 2016
With the company celebrating its 35-year anniversary, Hubtex presented two new groups of products – MaxX and FluX – to mark the opening of its new production facility in Fulda at the start of September.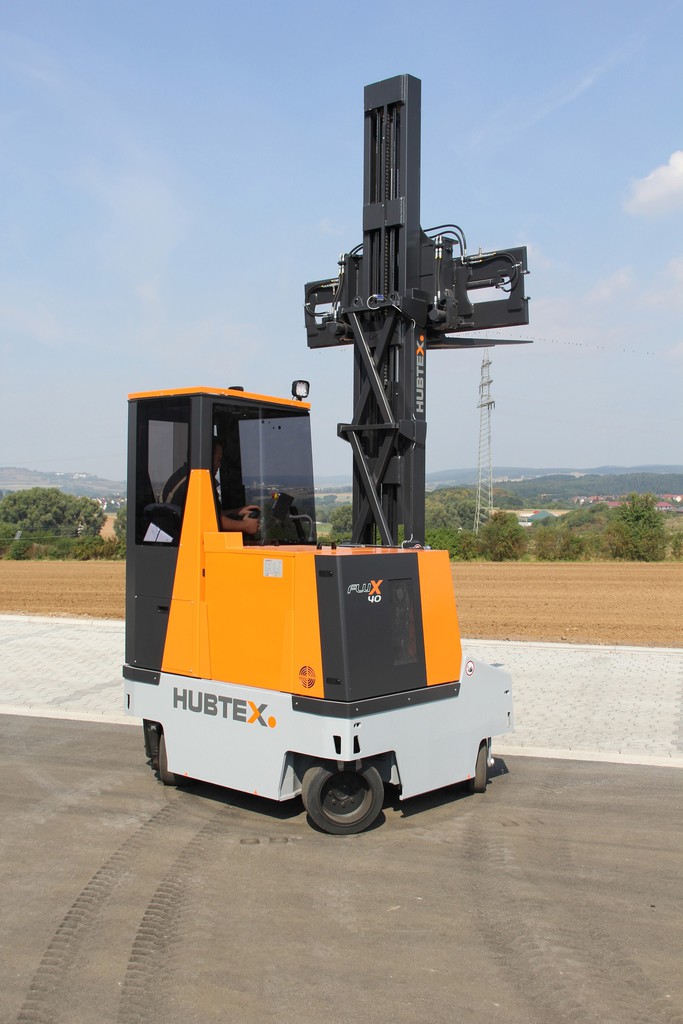 The new models are said to boost the manufacturer's portfolio by adding modular multidirectional sideloaders in the entry-level pricing bracket. Boasting a spacious driver's cabin, a multifunction joystick, a new-generation info display and easy battery replacement, MaxX and FluX are ergonomically designed for both indoor and outdoor use. The forklifts are set to be launched in November.
FluX is available in two load-capacity classes – 3,000 kg and 4,000 kg – with a 48-volt power system and four-wheel chassis. It can be deployed as both a front and sideloader. It is suited to transporting both pallets and long objects.
In addition to its very high speed of up to 12 km/h, Hubtex's patented HX steering system also delivers major benefits. Thanks to the steering system installed as standard for the first time, the FluX can swiftly switch from travelling forwards to sideways without stopping, in a way that causes minimum wear and tear to the vehicle. Depending on how it is deployed, users can save a substantial amount of time, especially when the vehicle is used for handling both long objects and palettes. The process of loading and unloading trucks is also much quicker due to the lack of mast travel. With the vehicle featuring a system that automatically reduces its speed depending on the steering angle, users can safely travel at optimised speeds. The structure of the frame is also new. The forklift features a compact frame measuring 1,850 mm or 1,950 mm in length, while offering substantial ground clearance of 150 mm. This enables palettes to be loaded simply, even at the end of aisles. The entry-level version of the forklift is available with a forklift carrier for long objects that spans the entire length of the frame. The carrier is also available in hydraulically adjustable form or with a lateral slider as optional extras.
Flexible handling of long objects
The electric multidirectional sideloader MaxX is available in three variants: with a load capacity of 3,000 kg and a powerful 48-volt power unit, or with a load capacity of 4,500 kg and a 48 or 80-volt power unit. As was the case with the FluX, focus was placed on the ergonomics of the driver's cabin when developing the MaxX. The spacious cabin provides drivers with a substantial amount of legroom and all-round visibility, while the new HIT3 multifunction display enables them to keep an eye on all key vehicle information, such as wheel position, speed and battery charge. Furthermore, the hydraulic suspension system installed for the drive wheels ensures that the vehicle never leaves the ground, boosting shock absorption. The vehicle chassis also offers key advantages for use both inside and outdoors. The four-wheel chassis allows the vehicle to achieve tighter turns while also enabling higher residual load capacities. Being able to be deployed for a period of five to eight hours at a max speed of up to 11 km/h, the vehicle can be used over multiple shifts thanks to its easily replaceable battery. With its standardised vehicle concept, the MaxX represents an ideal addition to Hubtex's trusted range of electric multidirectional sideloaders up to tonnages of 5 t, which are produced according to customer specifications.
New production facility for special-purpose vehicles
After around nine months of construction, Hubtex opened its new 2,250 m² assembly facility on 2 September. The company has invested around €4 million in the one-storey building, which is set to house the production of special-purpose vehicles. The move frees up capacity for the production of electric multidirectional sideloaders and the new vehicle series in the adjacent, existing production facility. The company has also built additional warehouse and material-supply areas as well as additional offices and social areas for staff, with these facilities spanning a further 470 m. Furthermore, Hubtex is to expand its existing office buildings and social areas by around 1,950 m by March 2017.
OTHER ARTICLES IN THIS SECTION