ARTICLE
Beacon Packaging invests in two Union Ramdoors
06 October 2016
Union Industries returned to long-standing client Beacon Packaging to install a further two heavy duty Ramdoors, which will provide access to a new storage area.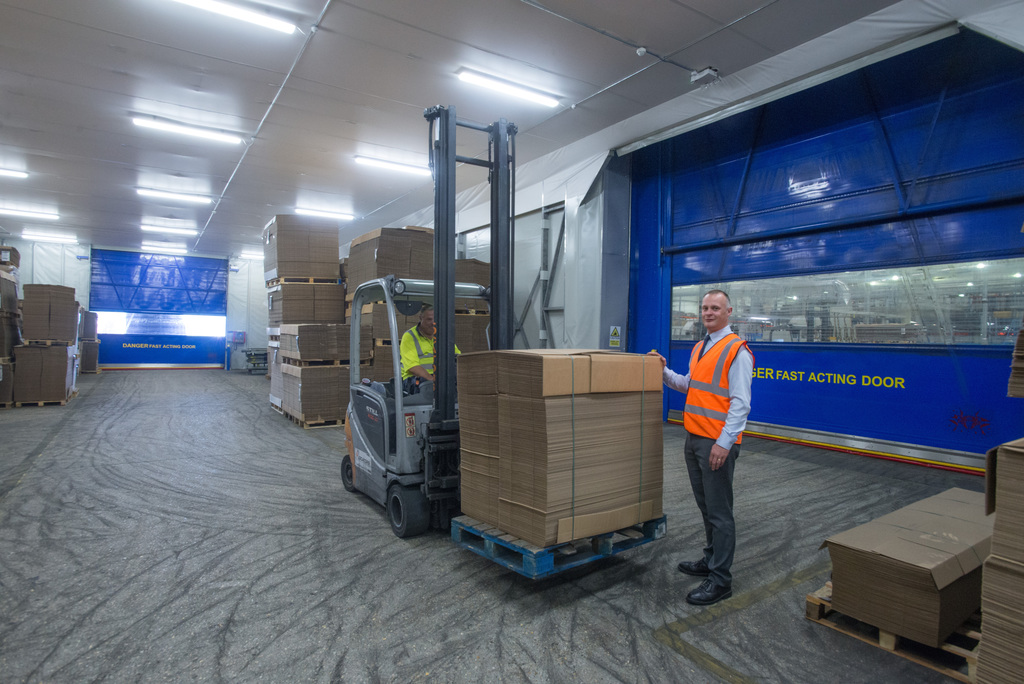 Beacon Packaging, the Aldershot-based company, has invested in an extension to its existing facility, which increased its storage capacity and required doors suitable for heavy forklift truck use and also reduce environmental ingress and contamination.
The Ramdoor is efficient, reliable and effective against heavy wind pressures and also features Union's famous 'Crash-Out' damage protection facility, which ensures that the door remains operable if the steel composite bottom beam is hit by a vehicle.
It also comes with free entry into Union's Lifetime Warranty Scheme. This cover is provided as standard and includes a service visit from Union's highly trained technicians. The warranty scheme provides peace-of-mind for the customer as well as allowing ease of budgeting for maintenance of Union's fast acting doors.
Having previously ordered a Bulldoor and a Ramdoor, Beacon Packaging' site now boast four of Union's high speed doors. The latest additions, which were made to measure, have been installed between its main factory and the new extension and the second, between the new extension and an existing extension.
Beacon Packaging is a large independent converter of board into corrugated boxes and fitments. It occupies an approximate 80,000sq.ft site in Aldershot. Its location allows it to cover Greater London, the Home Counties, Southern Midlands, M4 corridor (into South Wales) and South Coast from Kent to Dorset.
Henry Patterson, Technical Sales Engineer at Union Industries, said: "We've been supporting Beacon Packaging since 2008 and it is always rewarding when an existing customer places a new order – it's a great endorsement for our products and aftersales service."
Richard Horrocks, Logistics Manager at Beacon Packaging, said: "The original door Union installed eight years ago is still going strong, which is why we continue to return to the company whenever we require new fast acting doors. They are extremely reliable and are also capable of taking a knock, which is important if downtime is to be minimised."
OTHER ARTICLES IN THIS SECTION