ARTICLE
e-fulfilment drives major DC fit-out
09 November 2016
Clipper Logistics has kitted out its new 300,000 sq ft distribution centre in Northampton after being awarded an e-fulfilment contract with a major international retailer.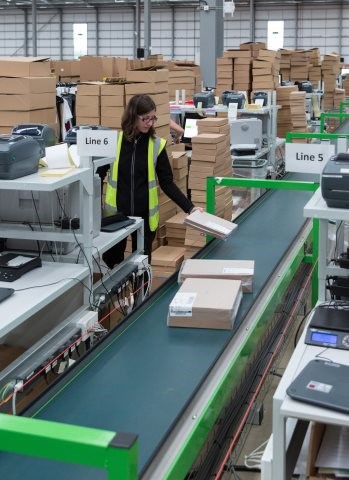 The storage and materials handling project was awarded to BS Handling Systems who installed pallet racking, a hanging garment solution (GOH system) for 750,000 units, 5 packing spur belt conveyors and 125 packing benches into the new facility.
Tim Owrid, development director for Clipper Logistics says: "We have a stockholding here of two million items, which rises up to four million at peak so on a busy day we are processing up to 100,000 items.
At present the distribution centre operates at ground level – a large mezzanine is planned for the second phase of the fit out. Bulk storage is held in pallet racking which has been erected along one side of the DC. This racking acts as a marshalling area between palletised goods arriving, being broken down and placed into stock.
The GOH system, designed and installed by BS Handling Systems to store 750,000 garments, dominates the floor area. The garment racking is arranged into blocks, with each storage block containing five runs of nine bays and each bay having two storage rails per side. This gives a total hanging capacity of 9,450 garments for each block.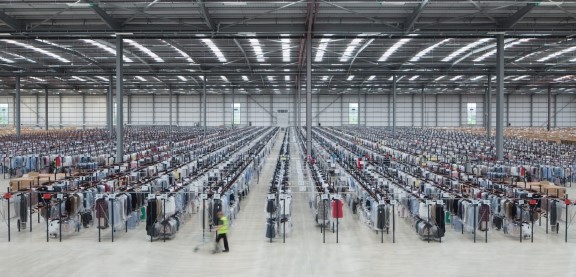 To process and pack the orders BS Handling Systems has designed and installed a conveying solution to provide the efficient handling of up to 100,000 items per day. Once the orders have been picked out of storage they are processed at one of the 100 packing stations which are positioned beside the packing spur conveyors.
There are 5 conveyors, each equipped with 10 benches on either side. Once each order has been completed it is placed onto the belt conveyor running alongside the operative. Orders then accumulate at the end of each conveyor where they are put into the correct cage for onward despatch.
A further 25 packing benches have also been supplied by BS Handling; these are used by the goods in operational team.
OTHER ARTICLES IN THIS SECTION