ARTICLE
Driver HGV training scheme hailed
08 December 2016
A group of road transport operators together with public sector partners have hailed a pilot scheme designed to encourage unemployed and unqualified individuals to train and pursue a commercial driving career an overwhelming success.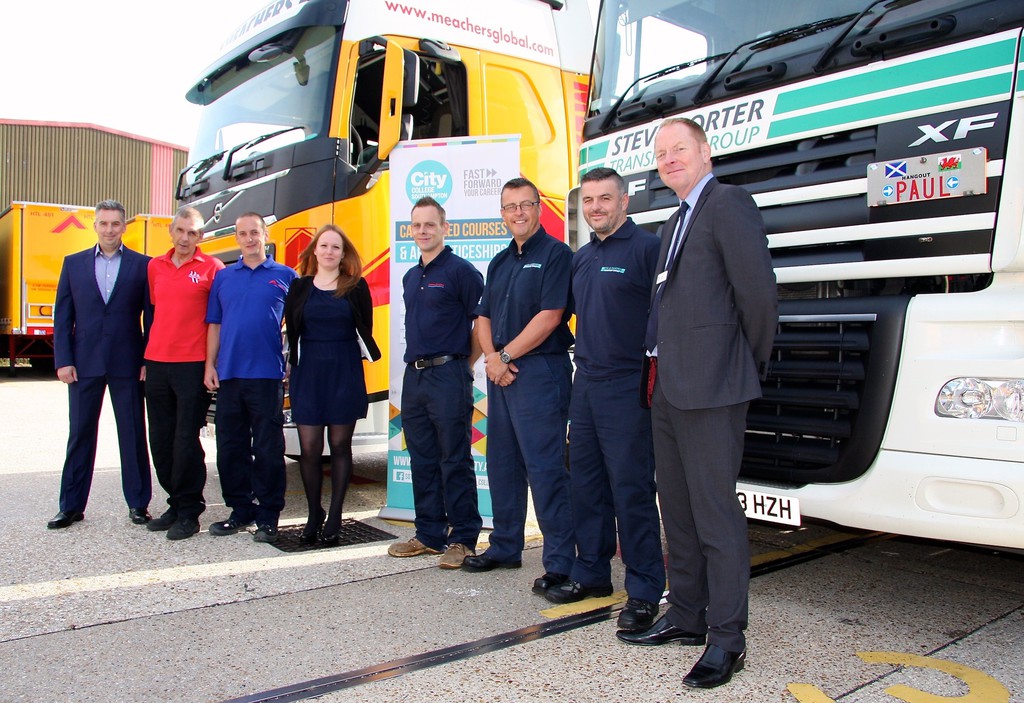 The Solent Logistics Consortium (SLC), which was formed in April 2015 is an industry-led initiative designed to address the nationwide demand for HGV drivers in a localised manner to assist with the ambitious growth plans of the city, by offering applicants both professional driver training and a guaranteed job upon qualification.
Meachers Global Logistics, Lambert Brothers, A.F.S Haulage, Steve Porter Transport, Harris Transport, Pentalver and Williams Shipping developed the initial concept during a series of workshops, which were attended by a number of regional transport operators and public sector stakeholders.
Southampton City Council funded the pilot project through finances secured through the Local Sustainable Transport Fund. Job Centre Plus, provided candidates and City College Southampton acted as delivery partner and project manager.
Following a selection process the training programme, free to learners, combined a period of supported study at City College along with an intensive driver-training course. Candidates received an employability qualification and worked towards a Class 1 or Class 2 commercial driving license. They were then offered a job with one of the consortium members.
A total of 11 new drivers have graduated from the course with receiving class 1 licenses and class 2.
Meachers Global Logistics, Commercial Director, Gary Whittle said: "There is a shortage of drivers in the sector and the project provided individuals with no previous experience the opportunity to train as a commercial HGV driver and work with some of the region's leading transport firms.
We are pleased with the success of the pilot scheme and will are looking into ways in which we can continue with this scheme going forward. We are currently working with the public sector to secure future funding to help towards the cost of training the new recruits as well as continuing to look at any original and innovative ways to ensure that we can continue to attract new drivers into the industry."
Sarah Stannard, Principal of City College Southampton, said: "We are delighted to be working in partnership with Southampton City Council, Job Centre Plus and the Solent Logistics Consortium and to lead on this innovative project which is helping to address the need for upskilling commercial drivers in the region. Already 11 drivers have successfully completed this bespoke training programme and have gone in to paid employment within the industry."
"City College Southampton fully supports adults wanting to get into work, upskill or change their career. We provide over 1000 full and part-time courses taught by industry expert tutors and our career-led courses are highly valued by employers and universities."
Southampton City Council Cabinet Member for Education and Skills, Cllr Darren Paffey said:
"This successful pilot scheme is a vital step towards supporting the recruitment and training of new commercial vehicle drivers and recognises the importance of providing a strong logistics infrastructure, necessary to secure future investment to our port city.
The Solent Logistics Consortium partnership has helped to pave the way towards providing local businesses with what they need for growth and increasing employment opportunities for people in Southampton."
OTHER ARTICLES IN THIS SECTION