ARTICLE
Ensures appropriate glove use
06 February 2017
uvex's R & D team has developed a glove system to help health and safety professionals identify the correct glove for the right task in the right workplace situation.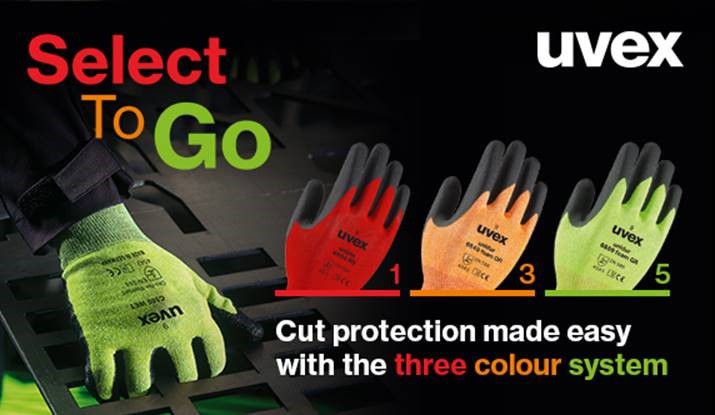 uvex's SelectToGo three-colour coded range makes it very easy to optimise the selection of gloves by a simple, quick, visual and memorable method. It ensures that the potential cut risk, the tasks in hand, the safety and comfort of the wearer and the working environment are all taken into account.
The uvex SelectToGo range of products overcomes many previous problems concerned with the selection of cut protection gloves, such as potential misunderstandings in the workplace when diverse languages are spoken, or where various different cut-protection levels are required in numerous industries such as construction, engineering, manufacturing, warehousing, logistics and automotive.
The attractive and easy-to-use colour-coded range takes full advantage of uvex's world-class expertise in hand protection and includes a variety of glove liners and coatings to protect against cut hazards and ensure safety when handling diverse materials in specialised conditions.
Manufactured in Germany to the highest standards, yet surprisingly inexpensive and very cost-effective, the uvex SelectToGo range incudes the uvex unipur PU, unilite foam RD, unigrip PL, the unidur foam and PU gloves and the innovative C500 family.
Tried and tested, the colour coded cut protection system is proven to raise awareness of safety among the workforce in a simple to understand and implement manner and takes away any doubts that the correct glove is being used, whatever the circumstances.
All uvex products can be quickly located via uvex's new Product Finder App, available free from the Apple App Store.
To find a local distributor and for more information on all uvex products visit: www.uvex-safety.co.uk or contact uvex customer services on +44 (0)1252 731200.
To view the full uvex PPE catalogue, visit:
http://www.uvex-safety.co.uk/en/services/downloads
OTHER ARTICLES IN THIS SECTION