ARTICLE
The right peg in the right hole
07 February 2017
ECOBAT Battery Technologies is not tied to any one manufacturer and can specify the most appropriate product for the particular need.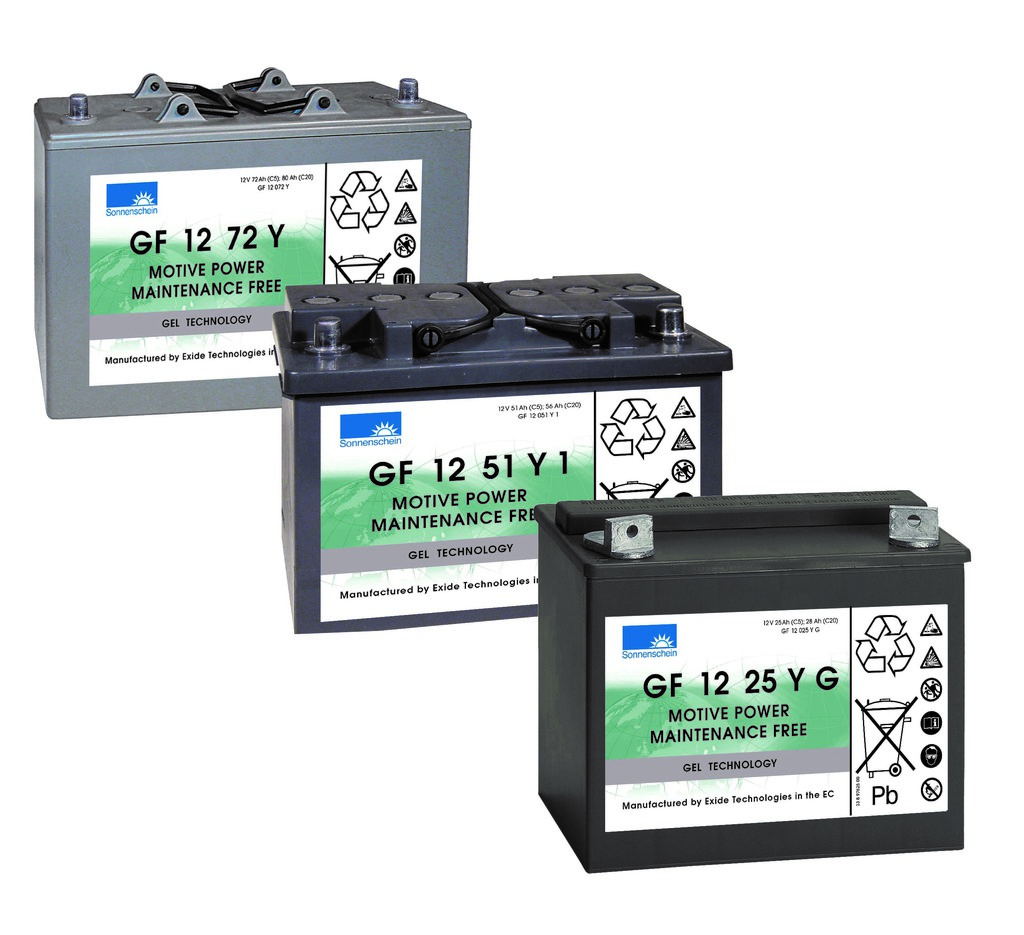 This is possible because it is not itself a manufacturer and is therefore not tied to a single product offering that may, or may not, be the most appropriate product for the particular need. Instead, having multiple partners, it is able to examine the individual requirements and challenges of each and every job and consider which, from a range of products, provides the best solution.
When it comes to gel technology, the company's relationship with pioneer Sonnenschein has stood the test of time, as it has been the brand's sole UK supplier for several years. Widely regarded as the premium brand for, among others, the floor cleaning, mobility and healthcare sectors, the Sonnenschein GEL range provides users with completely maintenance-free batteries that use an electrolyte made from a gel formulation that is safe, reliable and cannot leak or spill.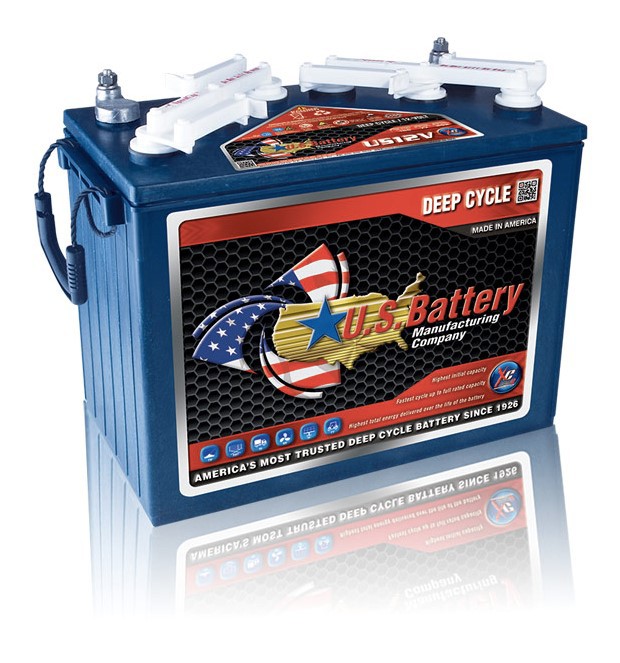 Available in 6 or 12-volt versions and with capacities from 15 to 200 Ampere hour, the range caters for multiple applications and provides the ultimate solution for virtually all the sector's stored power requirements.
Another important long-term battery partner is deep-cycle battery specialist, U.S. Battery Manufacturing, whose batteries utilise alternative technology to tackle the needs of industrial users.
A key feature of U.S. Battery's XC2 deep-cycle battery range is its ability to provide more running time by incorporating the company's exclusive Diamond Plate Technology. As these batteries are designed and able to reach their peak capacity in as few as 25 cycles, they provide higher total energy delivery and extend battery life. As a result, with proper maintenance, a fleet of floor cleaning machines, lifts, access platforms and similar factory equipment fitted with XC2 batteries can deliver substantially lower annual operating costs for users.
In Practice
As Fred Wehmeyer, senior VP engineering for U.S. Battery Manufacturing explains, this development in battery technology allows companies operating a fleet of floor cleaners/aerial platforms to lower their annual operating costs. "The XC2 formulation, used in conjunction with our Diamond Plate Technology is our proprietary battery-plate combination that dramatically extends the cycle-life and total amp-hour operation in deep-cycle batteries.
"These deep-cycle batteries can reach peak capacity in as few as 25 cycles. In addition, the battery's initial and peak capacity are dramatically increased, and its higher total energy delivery will allow fleets to save time and money."
In order to determine any cost savings, the fleet owner or manager must first make scheduled maintenance checks and take detailed notes on the condition of the batteries. "Anyone in charge of maintaining a fleet of machines needs to look at their battery expenditures in terms of cost-per-cycle, and cost-per-amp hours delivered over the life of the battery," says Wehmeyer. "Simply comparing battery ratings on the label or published cycle life, doesn't always tell the true story. In addition, purchasing the least expensive batteries you can find, almost never adds up to a cost saving in the long run."
In order to determine the cost-per-cycle and cost-per-amp-hours delivered, Wehmeyer suggests measuring the condition of the batteries on a weekly basis and making a note of the total service hours achieved from a full charge (total amp-hours). He also suggests recording the number of cycles, before they are no longer useful.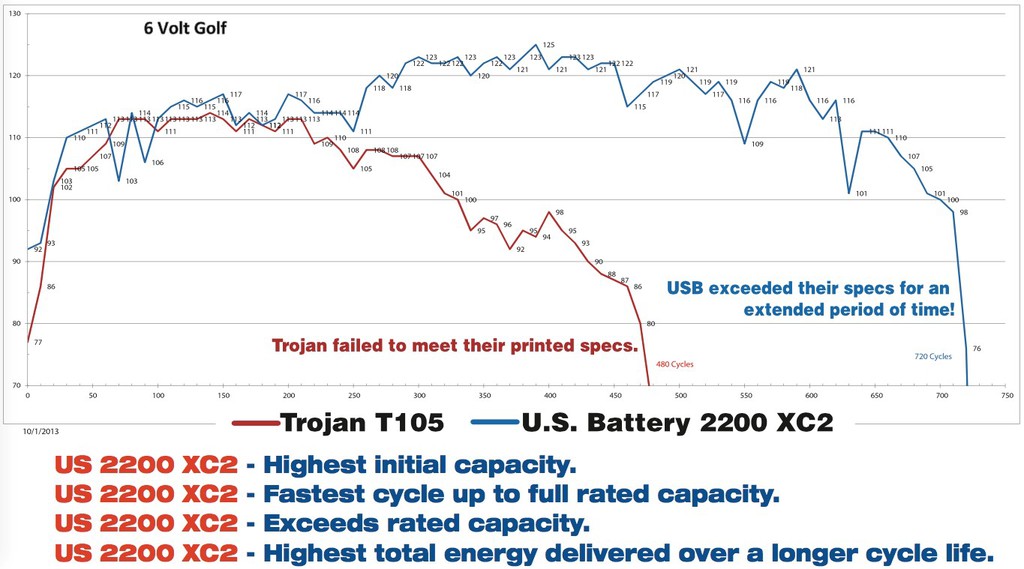 Over the course of several months, the information gathered will show an average run-time and amp-hours delivered from the batteries. This allows for a proper comparison of battery performance against the purchase cost. "Once you compare the actual operating cost-per-amp-hour, you can begin to see that not all deep-cycle batteries are the same, and those that are more efficient, even at a higher initial purchase price, can actually save overall operational costs in the long run,"' says Wehmeyer.
For comparison, a U.S. Battery with XC2 was tested against a popular brand. The results showed that the XC2 battery delivered a 36 per cent longer cycle-life and 55 per cent more total amp-hours over its cycle life than the nearest competitor.
If the purchase prices for the batteries are the same, this example translates to a 27 per cent reduction in cost-per-cycle and a 65 per cent reduction in cost-per-amp hour over the life of the battery.
It is also impossible to overstress the importance of having the correct charge regime to ensure optimum performance and that maximum life is obtained from the batteries used in any industrial situation and so here too, is where ECOBAT Battery Technologies provides the answers.
For further details, please contact ECOBAT Battery Technologies on: 01743 218500 or visit: www.ecobat.tech
The Power Of Partnership
Successful businesses are built on solid and dependable relationships that allow them to develop and grow. ECOBAT Battery Technologies has made partnership a foundation principle at the heart of its business ethos. Developing partnership is central in its relationship with its product suppliers, with recycling specialists and of course, with its customers. These partnerships provide the environment to power business growth and define 'the power of partnership'.
OTHER ARTICLES IN THIS SECTION