ARTICLE
NHS urged to ease the load
06 March 2017
Electric tug specialist MasterMover is urging hospital procurement officers to invest in its new SmartMover range of healthcare tugs for porters.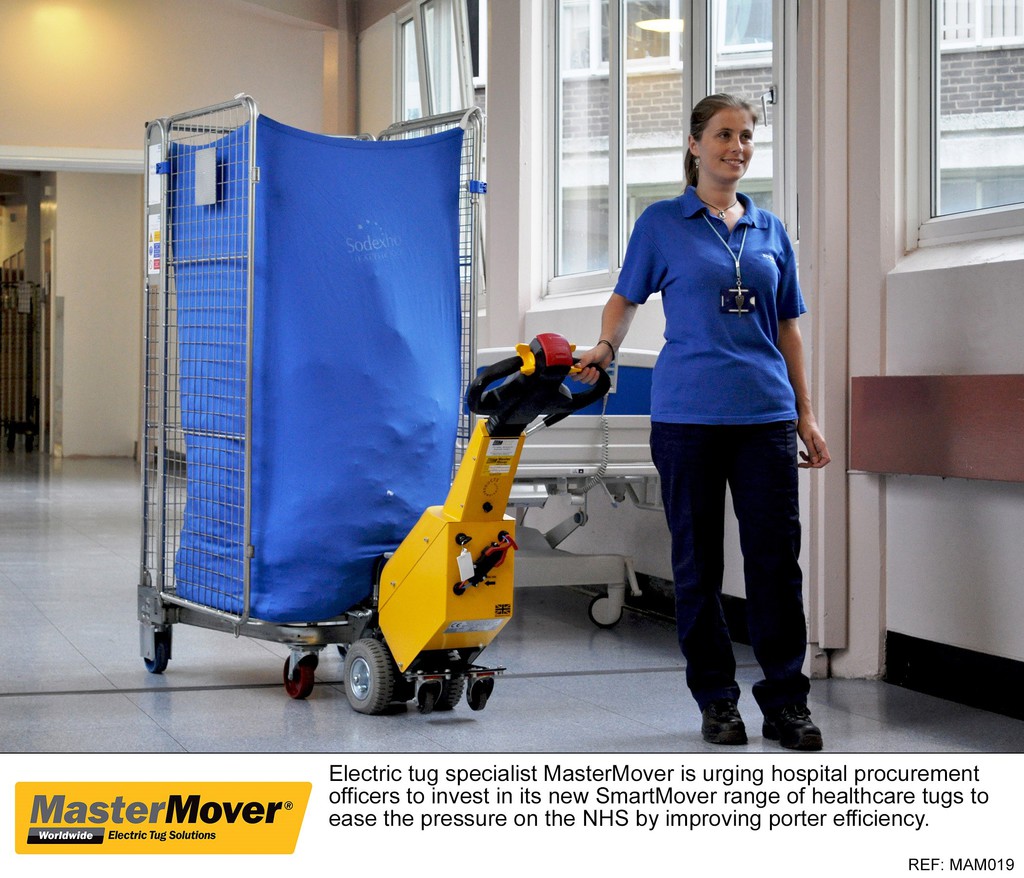 The company believes that use of its SM100+ tug will assist in easing the pressure that is currently placed on the NHS, by improving porter efficiency and minimising the need for nursing staff to complete porter tasks.
The SM100+ tug is designed to handle loads of up to 1200kg using a leveraged weight transfer system, which allows hospital porters to move heavy loads with ease. The tug also features a hydraulic coupling system that creates a very strong connection to the load to eliminate the risk of it detaching. The operator can activate this by simply pressing a button.
The hydraulic coupling system on the SM100+ allows porters to couple together multiple loads, such as trolleys or cages and move them simultaneously to save time. This makes tasks quicker and more efficient, allowing porters to safely keep pace with the growing demand on healthcare services.
Andy Owen, managing director of MasterMover. "There have been numerous cases in recent years of nursing staff admitting to undertaking porter duties, simply due to the large quantities of loads that need to be moved. This contributes to the pressure on healthcare providers, as nurses are forced to spend less time treating patients. It is particularly concerning when considered against the backdrop of hospitals being overworked, under-staffed and short on time.
"Investing in new equipment for handling and moving loads will ease the burden in healthcare organisations. The minimal footprint of the SM100+ healthcare electric tug, in addition to its hydraulic coupling system and load-bearing capacity, is the cost-effective way to streamline tasks and give healthcare managers one less thing to worry about."
In addition to the increased operational efficiency, the SM100+ also offers health and safety benefits. Because the leveraged weight transfer system allows easy handling of heavier loads, porters avoid the risks associated with manual moving. This is also true for other members of staff, who can use the tugs without the need for an operator licence.
The SM100+ is one of two products MasterMover offers to the healthcare sector. The other is the GBM20, a battery-powered tug specially designed to transport oxygen canisters through hospitals.
OTHER ARTICLES IN THIS SECTION