ARTICLE
Strapping technology benefits timber supplier
07 April 2017
International Timber, the supplier and distributor of timber and panel products, has underlined the strong reputation of Mosca strapping technology with the installation of a Mosca ROMP-5 at its site in Grangemouth, Scotland. The new machine is part of a bespoke handling and feeding system that is being used to mould timber and pack in small bundles.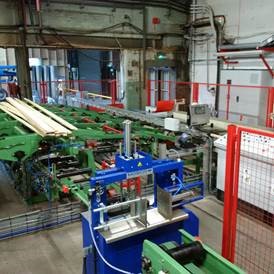 The ROMP-5 features Mosca's specially-developed, patented SoniXs sealing technology, which welds the strap ends using high-frequency ultrasonic vibration. This is said to provide a faster and more environmentally-friendly solution than conventional heat seal methods as no warm-up time is required and energy is only consumed in the moment the strap ends are sealed.
Other benefits of the machine, which can also be used by pharmaceutical, logistics and mail order businesses to name a few, include a step-less, 180 degree pivoting operation panel that can be operated from both sides, and a colour-coded display in the operation panel that provides visualisation of the machine's functional status. A user-friendly strap coil change can be carried out from the front or the side, while strap tension is easily adjustable and a soft strapping function is available for especially sensitive packages. Top speed is 35 packages per minute, but the machine has the ability to be switched from maximum speed to a material-friendly eco-speed via the control panel.
"We've been extremely happy with the new Mosca machine," Gary Madden, engineering manager at International Timber, said. "The installation went extremely well; the Mosca representatives were very friendly and the machine is just the ticket."
OTHER ARTICLES IN THIS SECTION