ARTICLE
Automated conveyor system ends bottle-necks
08 June 2017
An automated pallet conveying system designed and installed by Gebhardt-ECS for one of Europe's biggest paint manufacturers is enabling up to 100 loads an hour to be delivered directly from production to specific storage areas in a separate warehouse without intermediate handling.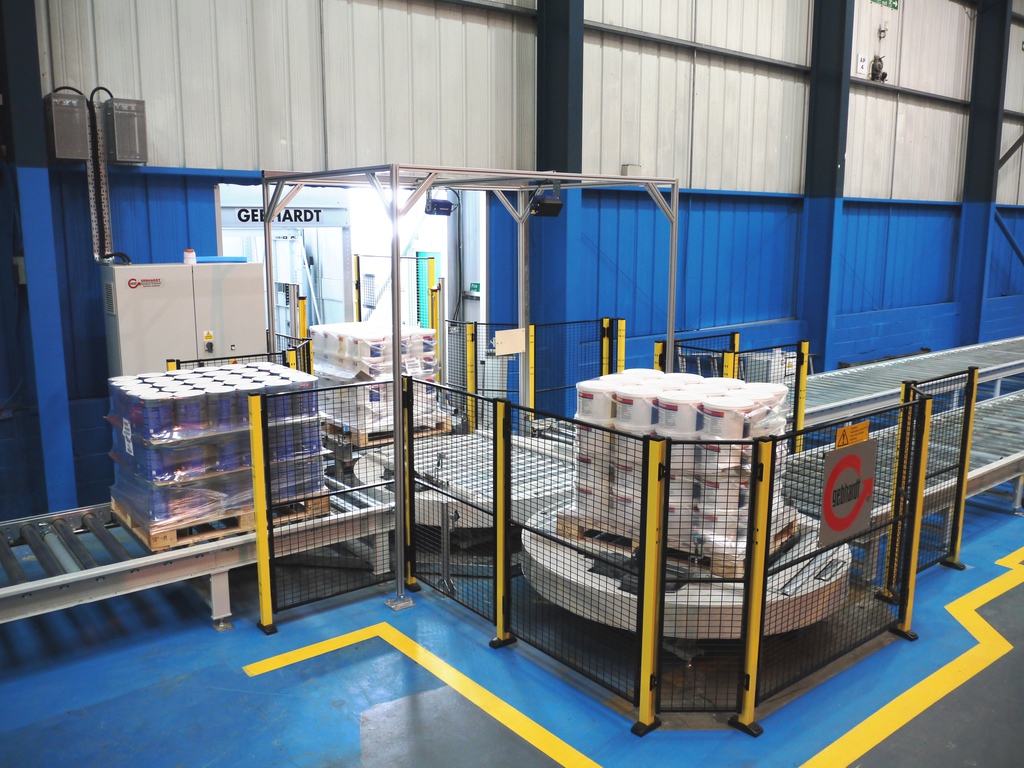 The layout of the site, with a service road separating production from warehousing, had presented major logistical problems in the past, and pallets had to be handled several times before being put away in the warehouse. With over 50 pallet-loads of paint an hour being manufactured currently and expansion planned in the future, the company decided to automate the transfer from production area to warehouse.
The contract was awarded to Gebhardt-ECS, whose System 500 pallet handling system had already been installed successfully at many locations worldwide. The ability of the company to act as principal contractor to manage this complex project, including the design and construction of a covered bridge over the service road, was also important.
Pallets are now carried from production to one of five specified storage areas within the warehouse without further handling until they reach their take-off points. The system allows for three types of pallet and a variety of load configurations with a maximum weight of 1500kg per pallet.
A shuttle car on rails with integral powered conveyors links three spurs in the production area to the start of the new conveyor system, where each pallet is shrink-wrapped by a specialised machine and then labelled with a unique bar-code denoting its storage destination. From here the pallets pass into an elevator, across a covered bridge spanning a site access road and into a lowerator that delivers them to the storage warehouse. Bar-code readers at this point and various other decision points on the system direct the pallets to one of five areas in the warehouse, where conveyor spurs allow them to be taken off by lift trucks.
The elevator and lowerator travel at up to 0.5 metres/sec and are able to carry two pallets at a time, enabling them to handle up to 98 units an hour. As a key element of the whole materials handling system at the site, they are designed and built to a high specification and fully integrated into the system to ensure long-term reliable performance with minimal maintenance.
OTHER ARTICLES IN THIS SECTION