ARTICLE
Gap testing robots to pick and sort clothes
25 October 2017
The clothing giant is testing robots from start-up Kindred AI in the USA.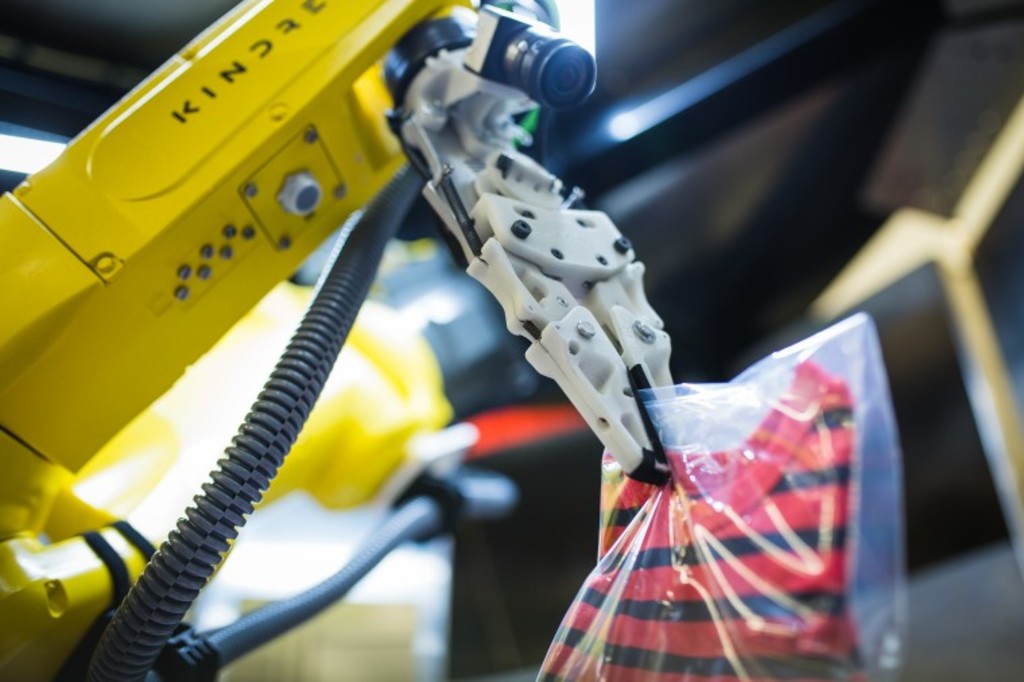 The idea is that remote human operators train the AI to fine tune their sorting ability.
For the Gap partnership, six human pilots located in Toronto are assisting robots based in Tennessee.
Pilots use a 3D mouse and keyboard to perform tasks the robot cannot perform alone.
The robots use deep learning and reinforcement learning to improve performance when grasping items.
The trial works on a pay per intelligent action model, whereby Gap is essentially paying for the time the robots are in use, as opposed to buying them outright.
Kindred says: "Our focus is to uncover how the human brain learns through interactions with the physical world and apply those learnings to create and teach a new intelligent class of robots. One that will enhance the quality of our day-to-day lives, and in particular, the way in which we work. Kindred's objective is to build the foundation to support this future - to create systems that allow machines to gain access to abilities and behaviour human minds currently possess.
"The first step we're taking is to deploy intelligence in a robot that is doing complex work that is difficult for todays robots to do. Many tasks in e-commerce distribution centres are of this nature - a nearly endless number of goods that need to be moved efficiently and quickly to fulfill an ever-increasing number of orders.
"Today we're proud to announce that we have been working with multiple major retailers to pilot Kindred Sort in their existing fulfillment centres. We developed Kindred Sort for use in retail distribution and eCommerce fulfillment centres to quickly and accurately sort products into orders, working side-by-side with fulfillment centre staff. We are helping alleviate the massive pressures facing the industry, including significant online sales growth, labor shortages, and a decades long lack of advancement in supply chain technology. Sort works side by side with fulfillment centre associates to help retailers increase productivity and expand capacity to serve more customers faster, enabling top line revenue growth for our partners."
Kindred has raised $28 million in Series B funding bringing its total amount to $44 million. The additional capital will go towards the continued research, development and deployment of Kindred's robots, as well as to advance the company's broader mission to build human-like intelligence in machines.
OTHER ARTICLES IN THIS SECTION