ARTICLE
A good home for Aisle-Masters at Gallery Direct 
19 January 2018
Gallery Direct is a leading British based designer, manufacturer and worldwide distributor of home décor, furniture and accessories. It is using five Aisle-Master articulated forklifts to look after the majority of its handling and storage procedures in its extended warehouse in Kent, and the trucks work round the clock from Monday to Friday to keep pace with the company's tight schedule.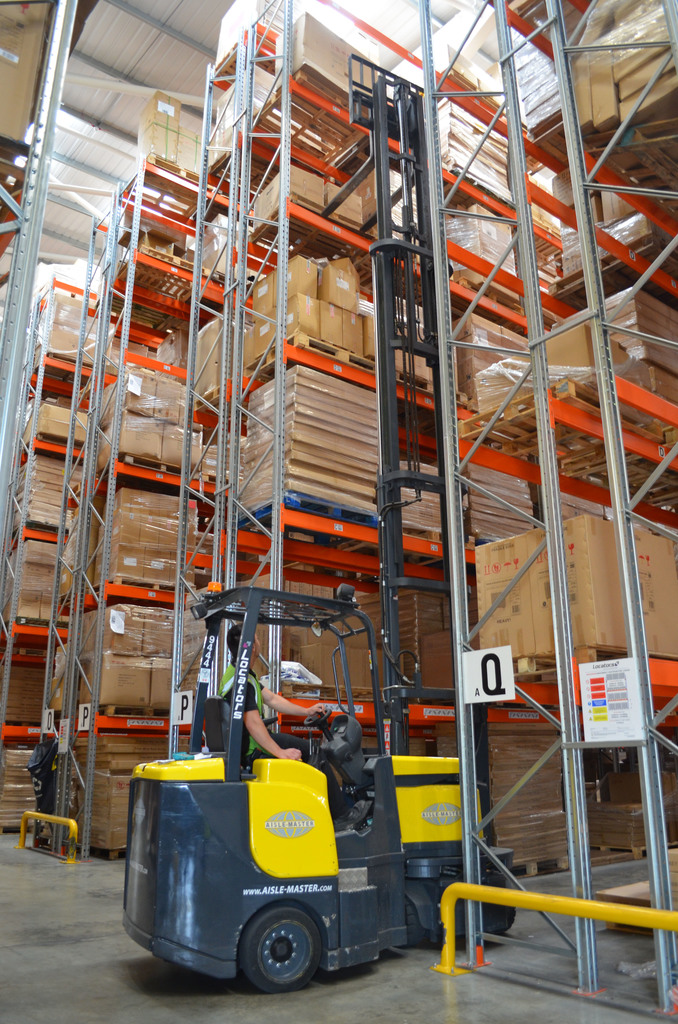 The 130,000 sq. ft. facility houses over 1,600 product lines which range from pallets of vases to king sized beds, all of which need to be offloaded, stored and reloaded for despatch with the ultimate efficiency. Thanks to the trucks' narrow aisle capability, 8,000 pallet spaces have been accommodated in the extension, making a total of 11,000 in all. Warehouse Manager Richard Swann points out that this is at least 25% more than would have been possible when using less manoeuvrable forklifts.
"We got our first Aisle-Masters a couple of years ago and were impressed with their reliability and versatile indoor and outdoor capabilities compared with reach trucks which struggle outside, so it made sense to go with the same brand when we were looking at enlarging the site," said Richard. "The trucks are really manoeuvrable and nifty, the drivers love them, and we have been able to achieve maximum storage density."
The two new Aisle-Masters, delivered in the autumn of 2016 to coincide with the opening of the new facility, are heavy duty 20SWE models with large 930 amp batteries. The 2 tonne capacity is more than adequate as very few of the loads weigh more than 1 tonne. An 11m 3 stage mast was specified as the top beam is two bays higher than in the original storage area at 10.5m. Three charging stations and a spare battery for the smaller Aisle-Masters ensure constant availability for the 24/5 operation. An in-cab camera aids drivers when storing and picking from the highest beams and shorter than standard forks were also fitted to prevent them from protruding to the other side of the racking.
Gallery Direct's Operations Manager Ciaran Aldous comments: "Growth has mushroomed in the last year or so and we have furthered our expansion by incorporating Dreamworks Beds Ltd. and Frank Hudson furniture makers into our portfolio, so it was crucial to find a system that promised forklifts with optimum flexibility and the best possible use of every inch of space."
OTHER ARTICLES IN THIS SECTION