ARTICLE
Malcolm Logistics opts for powerful Briggs' fleet
12 February 2018
Since appointing Briggs Equipment UK as its preferred supplier of materials handling equipment as part of an extensive materials handling capability review, Malcolm Logistics has received over 137 pieces of new equipment across a range of sites.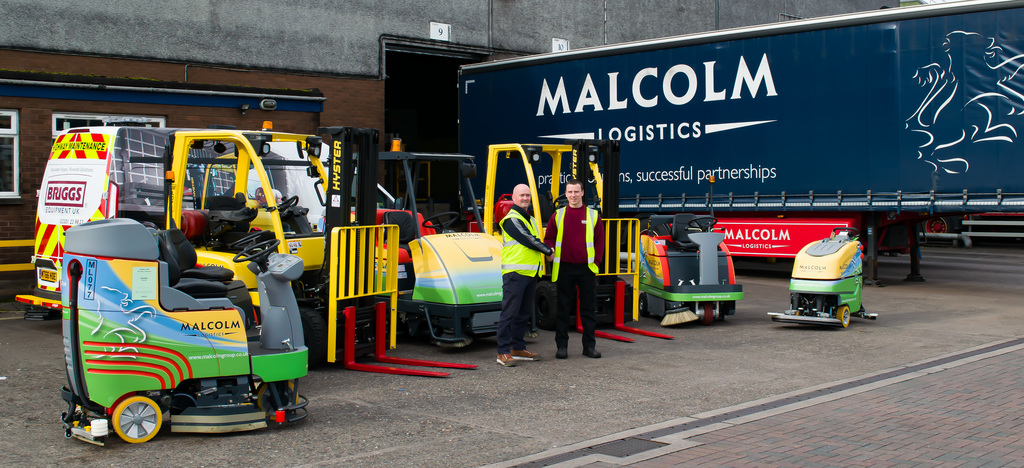 Briggs has supplied the company with 111 Hyster forklift trucks plus an additional 26 machines, which are a mix of Aisle-Master articulated trucks, ride-on powered pallet trucks, sweepers and scrubber dryers.
The Hyster forklift fleet is made up of H2.0FTS, H2.5FT, H3.0FT and H3.5FT machines, which have been deployed to support one of Malcolm Logistics' customers in the drinks industry. The 2.5t, 3t and 3.5t machines were fitted with Cascade push/pull attachments, carton clamps and double pallet handlers to improve their ability to load and transport goods.
Specially 'wrapped' in their own corporate identity, the trucks were specified with the Hyster Tracker wireless asset management system, which is designed to reduce operational costs and CO2 emissions by improving operator performance and overall fleet efficiency.
Cleaning equipment
Following a site survey carried out by Briggs' and Hako, an additional seven pieces of equipment have recently been delivered to the Leven site, including two Hyster H2.0FTS and five Hako cleaning machines for indoor use in the despatch, materials store and bottling halls.
The new cleaning fleet included two compact ride-on Sweepmaster 900Rs, a Sweepmaster 1500 RH which is a large powerful vacuum sweeper, a ride-on Scrubmaster B120R which is a scrubber drier with the ability to access areas previously only reached by pedestrian equipment, and a Scrubmaster B45 which is a smaller pedestrian scrubber drier.
With over five million sq. ft. of warehousing space across key locations in Central Scotland, Lancashire, Yorkshire, Avonmouth and Northamptonshire, having a stringent cleaning strategy in place is important for health and safety of operations within Malcolm Logistics.
It is common sense that keeping a tidy work environment reduces safety hazards, but leaving debris over the warehouse floor can also cause unnecessary damage to the equipment that drives over the top of it. Discarded material such as pallet wrap is a hazard for moving vehicles. Damage caused to axles by plastic banding and strapping is an easily avoidable cost. Dust and other debris blocks radiators and clogs air filters. This disrupts planned maintenance schedules designed to keep your operation running smoothly and at minimal cost. Cleaning out these blockages, with its associated time-is-money delays, is a preventable issue.
OTHER ARTICLES IN THIS SECTION