ARTICLE
3.5 kilometres of conveyor earmarked for Triumph DC
13 February 2018
Triumph International has appointed TGW Logistics to design and build a rack shelf picking area, as part of a major reorganisation and expansion of its existing logistics centre in Wiener Neustadt, Austria.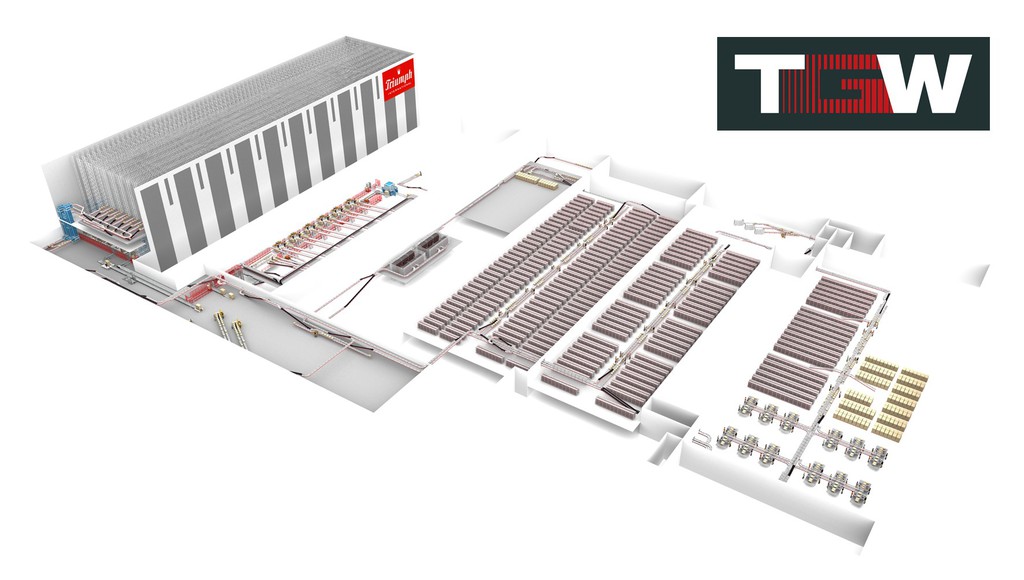 The global manufacturer of lingerie and underwear currently operates a central warehouse at the location with a quality check and packing site connected to it.
The existing two-storey centre includes five halls, which have been added over time and were built in different ways.
Taking into account the challenges created by the present infrastructure, TGW will use 3.5 kilometres of TGW KingDrive conveyor equipment to connect the existing carton warehouse to the new rack shelf picking area. Two warehouses will be used as 'Commissioner' sorting towers for order consolidation prior to packing.
The new solution optimises the existing space, with the conveyors reducing walking times and TGW's ergonomically designed workstations ensuring the health of the employees and an optimal workflow.
The separation of picking and replenishment will also ensure earlier item availability and higher system flexibility.
"Together with Triumph, we have created a solution that uses cutting edge technology to complement the existing installation and so complete the system," says Markus Augeneder, MD at TGW Systems Integration.
Doubled manufacturing capacity
TGW Systems is in the process of purchasing a 170,000-square-foot facility from Munich-based Wacker Neuson and will move production there later this year. This will double the firm's manufacturing foot print in the USA.
TGW has seen significant expansion in its American business unit TGW Systems. The company attributes this domestic growth to technological innovations, advanced goods-to-person solutions and an extended service portfolio.
To accommodate this rapid growth, including a 60% increase in U.S. project orders, TGW Systems has plans to move its manufacturing plant from 6870 Grand Haven Rd. in Norton Shores to 1300 E. Mount Garfield Rd. in Norton Shores.
"With the acquisition of this facility, we will double the size of our U.S.A. manufacturing footprint and also have capacity for further expansion," said Alex Ruch, director of HR, TGW Systems. "This new location will afford us the ability to grow, exceed our customer expectations as well as provide a world-class work environment for our employees.
"TGW has increased its workforce by 35 percent in the past year, and is "busting at the seams," Ruch added. "We're always planning on hiring more people, including a job fair for Wacker Neuson employees affected by that shutdown," Ruch said.
OTHER ARTICLES IN THIS SECTION