ARTICLE
Zero-pressure pallet conveyance
15 March 2018
Interroll is expanding its decentralised control and drive concept (24 V DC RollerDrive/ MultiControl for zero-pressure unit load handling) to include a special solution for pallet conveyance.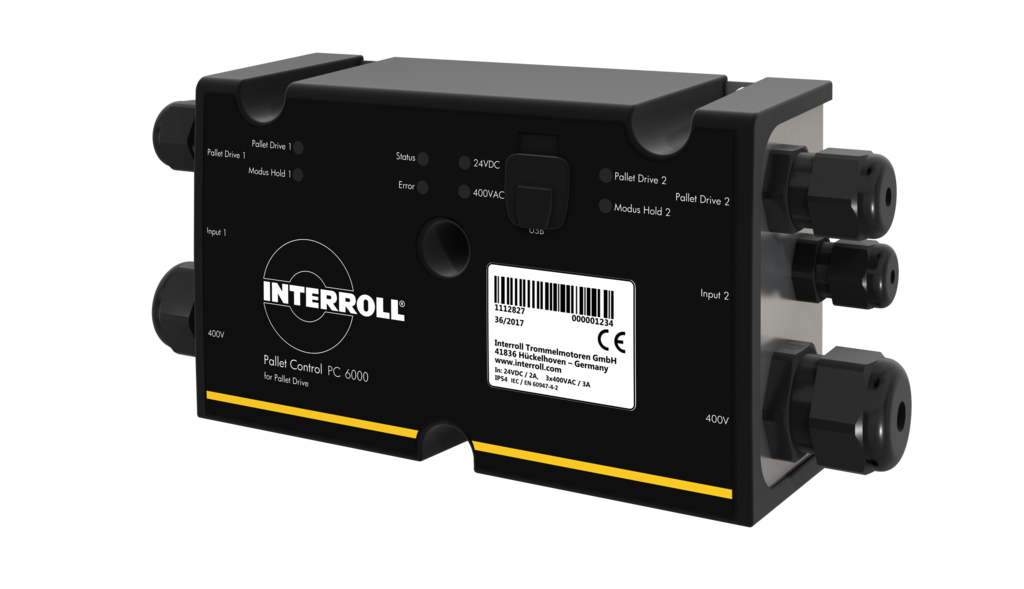 The new Pallet Control 6000 control unit, which also includes the conveyor rollers, the MultiControl and the Interroll Pallet Drive - using 400V AC drive technology.
Until now, zero pressure pallet conveyance usually involved costly programmable logic controller (PLC) software and additional pneumatics - the new Interroll solution eliminates the need for centralised PLC cabling and PLC programming. The new control unit serves as a link between the drive and Interroll's proven MultiControl, which again provides the complete logic for zero-pressure conveyance.
A pallet conveyor using Interroll technology is energy-efficient, split into different zones and activated or de-activated automatically as when material is actually being conveyed.
As a drum motor, the compact Interroll Pallet Drive has the same dimensions as conveyor rollers and can be seamlessly integrated into conveyor profile and operated at floor level or integrated in a turntable.
This solution is suitable for pallet weights up to 1,250 kg and conveyor speeds up to 0.22 m/s.
OTHER ARTICLES IN THIS SECTION