ARTICLE
Making your key asset work harder
17 April 2018
Experience live demonstrations of industry leading telescopic boom conveyor technology at the Warehouse Technology Group Live event in Manchester.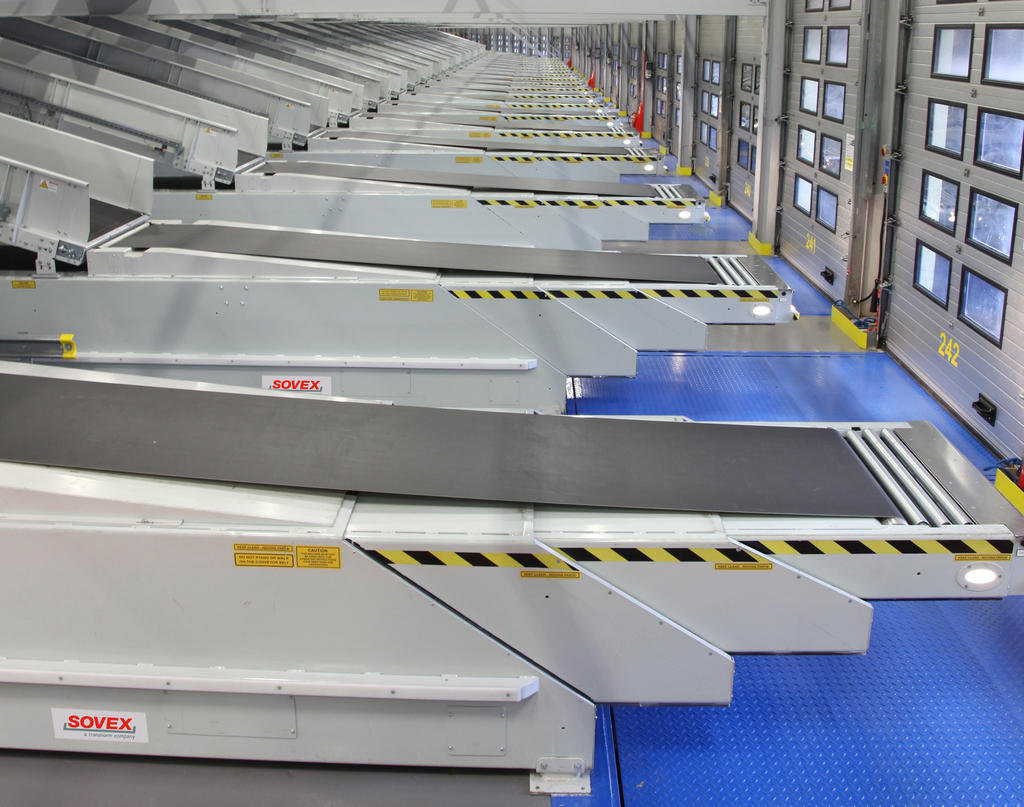 As a founding partner and member for eight years, Sovex takes great pride in its on-going association with the Warehouse Technology Group (WTG) having had a Vehicle Loader permanently in-situ at the Logistics Research and Innovation Centre (LRIC) since the inception of the unique 20+ company collaboration.
The Vehicle Loader has since remained in use on a daily basis as a tool for logistics learners at Mantra Learning, Manchester and also for practical presentations with clients.
The one-day event in June is a great opportunity for guests to network with industry professionals spanning the 3PL, e-commerce, warehousing, post & parcel and intralogistics industries. The broad spectrum of visitors find the LRIC an engaging environment and example of a fully functional modern facility, spanning a range of common practices. Furthermore, visitors often apply elements of the day's knowledge sharing back to their own operation, delivering performance improvements.

The Sovex team will be on hand to offer insight into how investments in the Telescopic Boom and Transport Conveyor technologies can help streamline solutions for companies operating such warehouses and distribution centres.
In an era of change and uncertainty spanning e-tailing, fulfilment and the overall agility of site modules; integrators and end users are welcome to discover effective warehouse efficiency through the WTG partners.
Sovex, now a Transnorm company is an industry leading international manufacturer of innovative vehicle loaders and boom conveyors. Having already established a broad range of blue-chip clients across the Parcel & Intralogistics sectors, Sovex is now a more compelling player in the market having joined the Transnorm Group in 2015.
The next Warehouse Technology Group Live Event - 13th June 2018
See first hand how innovation and technology can get your warehouse working smarter and harder.
The WTG Live event – now enjoying its eighth year – offers a unique combination of keynote presentations, live demonstrations, advice clinics and networking for logistics and warehousing professionals. Our keynote speaker Mike Vernon, Head of Innovation at Kuehne & Nagel UK will be sharing his extensive experience in employing warehouse technology to reduce costs, increase throughput and deliver a better customer experience.
Hear how investment in business-improving warehouse technology and equipment can help you meet the challenges presented by the current business climate, the emerging labour shortage and the growth of e-tailing. You will see how the leading-edge solutions offered by the Warehouse Technology Group partners can help you to manage stock more effectively and improve the overall responsiveness of your operation.
The media partner is HSS Magazine
VENUE
The Logistics Research and Innovation Centre
Mantra Learning
Greengate
Middleton
Manchester M24 1RU
OTHER ARTICLES IN THIS SECTION