ARTICLE
Check for subsidence after recent adverse weather
04 May 2018
Ground engineering expert Mainmark is urging owners to check the structure of their buildings for signs of subsidence following the recent weather conditions, and recommending they research the advanced solutions now available for structural remediation work.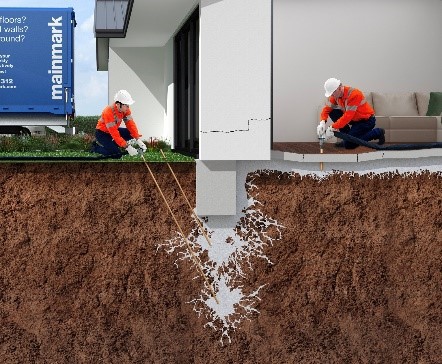 Mainmark is offering expert advice and guidance on how technology is enabling far more efficient processes.
Traditionally, the method of underpinning and re-levelling was costly, disruptive, lengthy and invasive, however, thanks to advances in technology this isn't the case anymore. Mainmark's JOG Computer-Controlled Grouting, for example, is a multi-point cementitious grouting process that utilises computer controlled monitors to slowly and accurately inject cement grout into the foundation ground to strengthen the ground and raise and re-level the structure. This allows buildings, especially large commercial properties, to gradually and safely return to a defined level. The hydraulic forces can be targeted to specific locations under the structure that can be minutely adjusted by technicians, to ensure minimal differential stresses are induced onto the structure.
Mainmark utilised its JOG solution on a large Sheffield based warehouse, which had suffered a sizeable differential settlement of up to 156mm. Due to the severity of the damage, cracks and severe sloping had started to occur in various parts of the building including staff amenity areas. In order to ensure the building was safe and functional, Mainmark technicians had to both re-level a large section of the building using JOG, as well as treat the ground at depth to minimise the likelihood of further subsidence by adopting Low Pressure Deep Grouting (LPDG).
Because of the non-invasiveness of JOG, Mainmark was able to complete this complex job in just a few weeks while causing minimal disruption to the operation and production of the business, allowing employees to continue their daily routines. This resulted in the business not suffering any financial implications from loss of work, but it also meant the safety of employees was managed as efficiently as possible.
Robbie Blanchfield, UK manager at Mainmark, says: "Due to the nature of commercial buildings and the number of employees working within them, the safety of a building is crucial and should be dealt with immediately. It's vital that commercial property owners understand the different solutions available to them as these types of products and services could dramatically reduce overall cost and time. Although repairing structural damage is a large task to undertake, advanced products such as JOG allow for a far more streamlined process, ultimately, benefitting the end user."
OTHER ARTICLES IN THIS SECTION