ARTICLE
5 reasons to consider a mezzanine goods lift
21 October 2019
Installing a mezzanine floor in your warehouse or storage area is a great way to maximise your space.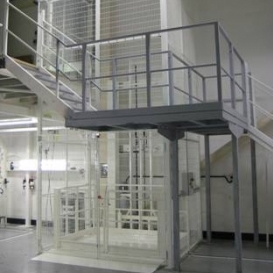 With an extra floor, you have potential to supply more product quicker, especially when you can access that floor and retrieve your stock quickly. Mezzanine floor lifts are one of the quickest, safest and most secure ways to access your mezzanine floor, while keeping your staff and operators safe.
Safety: This is a priority in your warehouse. That's why mezzanine goods lifts have a number of built-in safety features including interlocked gates that prevent opening when the lift is not in the correct place. There's also push to run controls and emergency stop buttons, manual emergency lowering and overload sensors.
Productivity: In your warehouse you should always be looking to eliminate any factors that have an effect on productivity. A bespoke mezzanine lift ensures you won't have to wait for a free forklift or forklift driver before you can move your stock. Plus, because you're not using a forklift, goods don't have to be palletised or packaged for safe lifting.
Training: Staff can easily be taught how to use the goods lift by your supplier upon installation. There's no more time-wasting or waiting for a qualified forklift driver to carry out lifts.Forklift driver training is time consuming and incurs extra costs too.
Space: Forklifts are a more expensive option in the long term and require regular servicing and regulatory checks due to their poor safety record. Your mezzanine lift, on the other hand, requires fewer checks, incurs lower maintenance costs and usually only needs an annual service or check.
Bespoke: All warehouses are different, so you need a lifting solution that's bespoke. A mezzanine goods lift can be fitted to your exact specification, fitted to your layout or operator requirement. For example, if you need the lift stop at waist height, to allow the operator to more easily transfer the goods, this can be programmed in with ease.
OTHER ARTICLES IN THIS SECTION